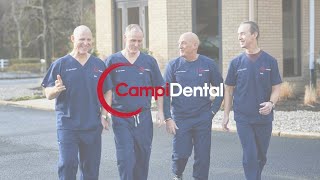 Campi Dental compassionately delivers a coordinated, comprehensive, and multidisciplinary approach with the highest level of customer service in a single location.

If your teeth are stained, discolored, chipped, misaligned, or have gaps, cosmetic dentistry can help.
We can improve the appearance of your smile through veneers, whitening, bonding, crowns, and implants. These treatments aren't always required for oral health, but are often desired  to improve their smile and overall facial appearance.

Oral surgery refers to any surgical procedure performed in or around your mouth and jaw, usually by an oral surgeon. While most dental practices will have to refer you to one, we are proud to offer oral surgery procedures right within our office. Common oral surgery procedures include wisdom teeth removal, dental implants, and bone grafting.

Dr. Greg Campi specializes in non-extraction and non-retraction orthodontics promoting facial balance, beauty, and airway health for a healthier you.
We offer all orthodontic treatment options including Damon Braces, Invisalign™, SureSmile Orthotropics, ALF, Crozat, Oral Myofacial Therapy (OMT),
GoPex and others.

We are proud to offer CEREC technology, an advanced dental restorative system that allows our doctors to restore decayed teeth, place crowns, remove defective amalgam fillings, or place cosmetic veneers in just one appointment. This allows you to have the highest quality of care and the most lifelike dental restorations in just one visit to the dentist.

---
Your Teeth Deserve Superior Care
Campi Dental can handle all your dental needs, including general dentistry, oral surgery, and orthodontics, in one convenient location. Contact us today!
Our Commitment to Your Health & Safety 
When it comes to the health of our patients and team, we don't take any risks. We know that their health and well being is worth the extra investment to get the best equipment possible. The past few months have changed the way many of us live and breathe every day. We are more aware, more cautious, and more particular about how we live and where we'll go than ever before. As a practice, we spent many, many hours focusing on how to enhance the health and safety of our patients and staff within our building. Cleanliness and proper sanitation have always been our priority, but we knew we needed to take it a step further. Across the board, we made several upgrades and improvements to the equipment and products we use, and the process in which we use them.
Investing in the Surgically Clean Air System was our #1 initiative and something we are beyond proud to now offer our patients and staff. Read more about our Surgically Clean Air in our recent blog post!
---
Learn More About Campi Dental & Ways to Improve Your Oral & Overall Health